Naxos, called here Giardini Naxos and sometimes referred to by academics as Naxos in Sicily to distinguish it from the island, boasts the earliest (formal?) Greek colony on the island. The colony is located in a Phaeacian-like paradise of fruit trees and lush streams in a modern tourist resort, next to some great beeches.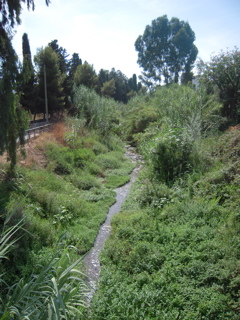 The colony makes an interesting comparison to Megara Hyblaea, partly in what is displayed, and partly in what they focused their time on. The walls, dating in palces from 625, are impressive:
And the temple in the southwest precinct is also fine, though it dates from about 525. The museum displays pieces of roof tile and decoration which give a fine idea of what it would have looked like.