Catania took a beating from the eruption of Etna in 122 or 121 BCE (as you recall from Lucretius VI.641-2, "the fiery storm rose up with no ordinary kind of destruction" that year), but it was granted a ten-year tax holiday by the Romans, and rebuilt itself. After it took Augustus' side against Pompey, it was rewarded with an Augustan colony and the financial favors that came with that, and by the high empire Catania was listed by the fourth-century poet Ausonius, who grew up in Bordeaux, as no. 16 in his list of the 20 most noble cities of the empire ("Ordo Nobilium Urbium"), one ahead of Syracuse. (Bordeaux comes in a suspicious 20; the top 5 are Rome, Constantinople, Carthage, Antioch and Alexandria). Yet, although he asks who could keep silent about Catania (called in Latin Catina), he has little to say about it; he can only note that the city is "famed for the piety of the scorched brothers" (ambustorum fratrum pietate celebrem).
Claudian, a younger contemporary of Ausonius, helps us out here. He has a whole poem (no.17 from the Carmina Minora in the Loeb edition) on a famous statue of these brothers in Catina, clearly a notable feature of the fourth century city. The two brothers, Amphinomus and Anapias, carried their parents out of an eruption:
Do you not see how the aged man points out the savage flames?
How the mother calls upon the gods with frightened lips?
Fear has made their hair stand on end, and a trembling
Poured throughout the metal has made the terrified bronze pale.
In the limbs of the young men is seen a fear,
A fear for their burdens, not frightened for themselves.
Their cloaks are blown back by the wind…
One is rendered more like his mother, the other his father;
The skill of art molds a difference in their ages,
Yet both parents are rendered in the face of each. (9-15, 22-4)
Sadly you will not find this statue in the city. But you can read the whole poem in Latin or in the English translation from the old Loeb edition of Platnauer.
What you will find, among other things is a theater with an odeon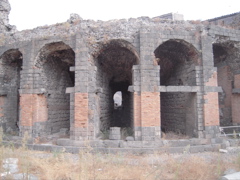 An amphitheatre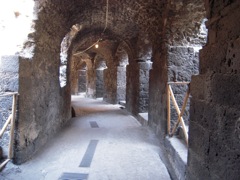 Columns from the Roman basilica under San Agostino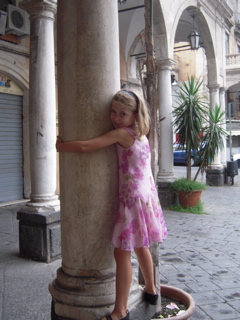 A road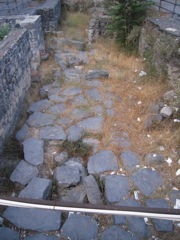 A Byzantine Chapel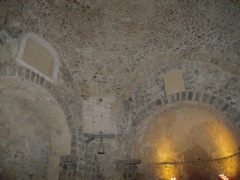 And lots of baths