The study center is located in the Palazzo Biscari, the most beautiful of the private palazzi in Catania. Pictured is the central door off the courtyard, together with my family and Franco Scariglia, the resident director of ICCS-Rome, and his wonderful family; the center's door is to the right.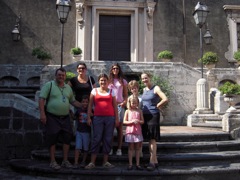 For more pictures of the study center, check out the Coldplay's video for Violet Hill — bizarrely enough this was filmed here in the palazzo — and on Mt Etna.
The Biscaris collected an excellent collection of antiquities and other art objects, and donated them to the Museo Civico in Catania. Unfortunately, they have not been taken care of as they should; many are in storage while an interminable renovation is being completed, and others, including a Carravagio, have reportedly been lost.
Catania has the most amazing fish market, every day except Sunday. There are bargains to be had, but you also need to have a price before you hand over any money, and watch for pickpockets. Which is hard, because the stalls are jaw-droppingly impressive.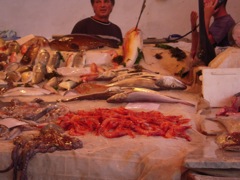 August 17 is one of the few days that the relics of St Agata are brought out; there is a huge parade, with fantastic fireworks, as the reliquary does a tour around the Duomo — stopping in the square at the end of the Via Museo Biscari.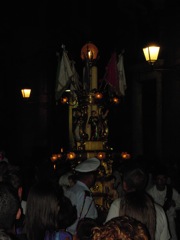 Catania also has a lot of Roman remains, largely in little bits here and there. The central square, piazza stesicoro, does, however, boast a segment of a very large amphitheatre, with fine tunnels beneath the seats: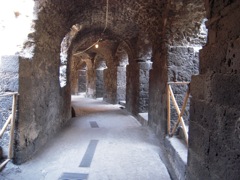 There are also plenty of beaches for sun lovers, including the rather fascinating plywood beach in the northeast of the city — there is no beach there, so there is a plywood platform set up like a beach. There are showers, places to get in, places to ice creams, people flexing their muscles… much like Baiae, or Clodia's place on the Tiber.