We had our first non-academic field trip yesterday to the wetlands of the Vendicari nature reserve on the southeastern corner of the island. The wetlands represent one of the main crossing points for migrating birds to and from Africa, though its volume of birds is dwarfed by those crossing at Gibraltar and the east end of the Mediterranean — and it cannot be said that there were vast numbers of birds, though there were some herons and a fine spoonbill.
Fortunately, the weather was quite lovely: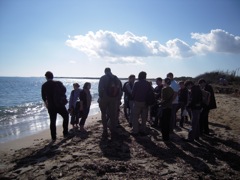 We had lunch at a Swabian fortress on the promontory, next to which were the remains of some old Roman pits for making garum (fish-sauce):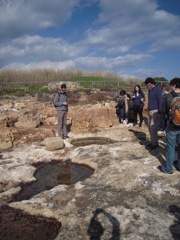 When we returned to Catania, we were treated to more of the St Agatha festival fireworks that have been lighting up the sky for over a week now and will climax in the St Agatha holiday this coming week.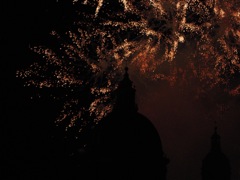 St Agatha is the local saint of Catania, reputed to have lived opposite the site of the Palazzo Biscari, who was martyred by the Romans around the middle  of the third century.